Join Janna in support of Palestinian Children's Education Fund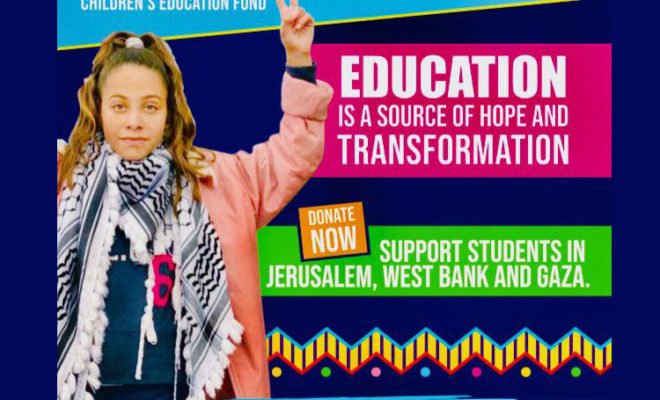 I am sending this special message to thank all my followers, supporters and friends of Palestine, who have been sending me birthday wishes and wanting to send me gifts. For myself, gifts I do not need but instead I would like to invite you to join me in doing a good deed for young Palestinians that are in great need… of a good education!
As ambassador for Shamsaan, I have received help myself would like with your help to be able to grow an education fund to support the studies of more Palestinian children.
Nelson Mandela said, "Education is the most powerful weapon which you can use to change the world… It can contribute to nation-building and reconciliation."
As a child who is growing up under Israeli military occupation, it is not easy to pursue my academic dreams because of the violence that constantly surrounds me but see that education is an important tool for peace, stability, and building a successful Palestinian state.
Although the right to education is compelled by international law, Israel denies us easy access and imposes restrictions on our education in many ways:
1. Education Funding including foreign aid has been stopped that has resulted in a crisis causing budgets and staff salaries to be cut.
2. Palestinian schools, universities and education ministry buildings are often targeted by the Israeli military, many are given demolition orders and in Gaza are completely destroyed by bombing. Israel's 50-day attack in 2014 known as 'Operation Protective Edge', resulted in 412 students being killed and destroyed 14 education institutions. Planning Restrictions in 'Area C', which makes up 61% of the West Bank, results in a shortage of schools and many that are built are demolished.
3. Restrictions on students movement through the system of checkpoints, barriers, the Separation Wall and the need for permits to travel in certain restricted areas imposed by the Israeli occupation, make for difficult daily journeys to school. Children often have to walk long distances, are subjected to delays, detention and suffer harassment by Israeli soldiers and violent attacks from settlers.
4. Students including young children are often arrested and imprisoned for long periods often under administrative detention without being charge or trial. While in prison and children placed under house arrest, education is disrupted and restricted.
Education has been a source of both hope and transformation for the Palestinian people. After the 1948 Nakba (the catastrophe) students and their teachers that played a critical role in rebuilding Palestinian society. Providing financial assistance to support the education of young people will serve as a source of hope to a generation growing up under the harsh conditions of military occupation.
Shamsaan's Palestinian Children's Education fund hopes to support the education of students across occupied Palestine, as well as in Gaza. You can either make a cash donation to Shamsaan or consider sponsoring a student in their studies.
BANKING DETAILS
Account Name: SHAMSAAN
Bank: FNB
Account Type: Cheque
Account Number: 62771686668
Branch Code: 210555
Swift Code: FIRNZAJJ
Ref: Education Fund
"You may not be able to make the World a better place for Palestinian children but you can leave better children for the World."