INSPIRED VISIT BY MANDLA MANDELA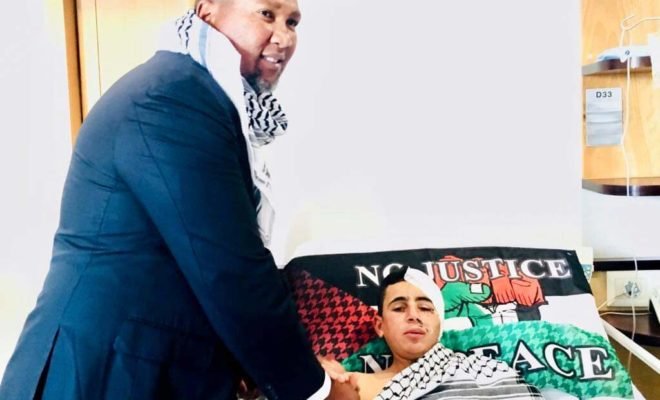 The grandson of the Nelson Mandela, visited Mohammed this morning. He welcomed the Tamimi's to South Africa on behalf of the Royal House of Mandela and sent this message. 🇿🇦🇵🇸🇿🇦 
We welcome Mohamed Tamimi to South Africa and applaud NGO Shamsaan for affording him much needed medical treatment!!!
Kigali, Rwanda Sunday 21st October 2018: It is with great joy and delight that we learn of the arrival of Mohamed Tamimi in South Africa for specialised medical surgery related to his injuries he sustained when he was shot as a 15 year old by the Apartheid Israeli Defence Force. It was an act of brutality not unlike what we witnessed and experienced on a daily basis under Apartheid.
I want to applaud Shamsaan the Durban-based NGO who has taken the initiative to get this young hero of the Palestinian struggle the critical treatment that he needs. Their generosity, kindness and caring reminds one of President Nelson Rolihlahla Mandela's words: "I smiled because every day ordinary South Africans are making a difference." You make us proud to be South African and you make us proud for supporting such a critical part of our global icon's legacy and what he stood for and for bringing some sunshine into this young man's life.. 
We say to our young Palestinian activists in Apartheid Israel's jails, those who lie injured, crippled and maimed in hospitals and all those bound to wheelchairs and whom have lost limbs as victims of genocide, ethnic cleansing and crimes against humanity that we shall never abandon you and the just struggle for which you suffer. Madiba reminded us that "the measure of the soul of a nation is how it treats the most vulnerable." This is why the arrival of Mohamed Tamimi in South Africa is of such significance. We wish him well with his medical operation and pray for his well-being and full recovery. We shall visit him tomorrow upon our return from Kigali, Rwanda.
We reiterate that the struggle for self-determination of Palestine is our struggle and one which President Mandela dedicated his life to. We will in the face of all pressure remain committed to the Palestinian cause and uphold Madiba's legacy. He reminded us that "…it behoves all South Africans, themselves erstwhile beneficiaries of generous international support, to stand up and be counted among those contributing actively to the cause of freedom and justice…
Nkosi Zwelivelile
Royal House of Mandela
Mvezo Komkhulu
P.O. Box 126
Viedgesville, 5102
Eastern Cape Province
South Africa